When sometimes Micro SD card are used in industrial products such as industrial PCB, customized size limit etc., it needs more stable quality, higher or lower temperature endurance, smaller size, welding usage, so we developed the smallest industrial Micro SD card-eMSD.
The difference between Micro SD card and eMSD are as following.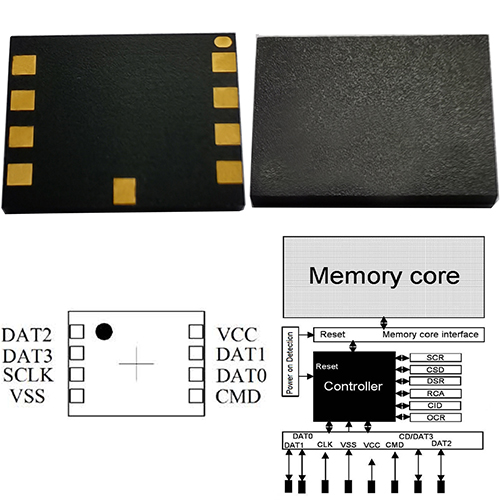 Items

eMSD

Micro SD card

Dimension

128MB-1GB 8(L)*6.2(W)*0.8(H) mm

2GB/4GB   8(L)*6.2(W)*0.8(H) mm

15mm(L)*11(W)*1(H)mm

Capacity:

128MB/256MB/512MB/1GB/2GB/4GB

64MB to 256GB

Connection stability

There is a fixed connection with the equipment (SMT-Surface Mounted Technology), even if the solder on the surface of the connection is oxidized, it will not cause poor internal contact, and the product failure rate is extremely low.

There is a contact connection with the equipment (gold fingers and shrapnel), and the contact points are easy to oxidize, resulting in poor contact and product failure.

Flash wafer

The flash wafer used by EMSD is of industrial grade and has been strictly tested by the original factory. The MTBF is usually greater than 1,000,000 hours.

The flash wafer used by Micro SD card is commercial grade, and the original factory has only done basic tests so MTBF does not make any promises.

Packaging technique

Standard LGA IC package, the epoxy resin and gold wire used in the package can withstand temperature shocks above 260°C, and the product has a low pass-through rate and failure rate.

External card type packaging, copper wire or aluminum wire can be used, and the pass-through defect rate and failure rate are relatively high.

Data transmission

LGA package, the distance between the data pin and the memory chip is shorter, which is conducive to the speed and stability of data transmission.

It must be connected to the card through the connector, the data transmission line is longer, and the speed and stability are relatively low.

Host design and cost

Only need to reserve about 8*6mm component position, simple structure, compact layout, low cost

Must provide at least 11*15 MicroSD position and card reader card seat part, complex structure, large space occupation, high cost
Our eMSD is only designed to the capacity below 4GB. For the capacity over 4GB, eMMC is better and more popular..
Warmly welcome for inquiries.